By Jack
Synthwave is a nostalgic, largely instrumental genre of electronic music. We provided a three-part guide to synthwave here. In a new series, we look at the songs that have defined the genre and interview the creators behind them.
'Azur' is possibly the chirpiest song ever put to tape. Nothing epitomises 'bouncy' quite like these four minutes of unabashed & beaming pop. Krosia, the guise of French musician Loic Pichard, belongs firmly in the dreamwave camp. His music is as crisp and gleeful as the gorgeous artwork would suggest. We asked Krosia about 'Azur' and future projects.
How did you get into synth music ?
It was about 7 months ago, this kind of music was totally unknown to me. One day a good friend of mine made me listen to Macintosh Plus.
I didn't pay attention at first, but at the same time he made me listen to 'Resonance' by Home and I love it. So a few days past and I took time listen to chillwave playlists which included artists such as A.L.I.S.O.N, Lucy In Disguise, ODDling, Emil Rottmayer, De Lorra, HOME…
I totally fell in love with this music and listened to it everyday. This is when I started making some drafts of my song 'Dreaming', and then I released a new song called 'Visions' which was my first real chillwave song, mixing classic sounds of electronic music with mind-blowing synths. I had the opportunity to feature it on Electronic Gems with a homemade clip.
Is Krosia your first musical project?
It's my first project, but before making chillwave and synthwave I was making every type of music under this name, nothing impressive. I mostly was searching inside myself, but when I started writing and listening to synth music I was telling my self – "this is definitely the kind of music I want to make."
How did you begin to write 'Azur'?
I started to write 'Azur' by building chords, then I added drums to feel the beat. I played this on a loop, to never feel out of ideas. And then I added bass and melodies. It took me about two days to get the basic structure of the song.
Tell me a little about the vocal snippet we hear after the 1 minute mark. Where does this come from and what does it mean to you?
Haha, the sample came from Ferris Bueller's Day Off from 1985. I really love this movie, I discovered it at an outdoor cinema session 2 years ago. The experience was complete; I was with good friends in front of a fun and happy movie.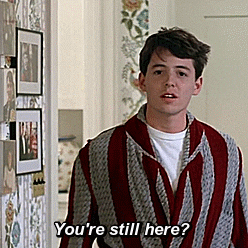 The reply we hear came from the main character Ferris is in is bed faking illness to avoid another day at school –  just to enjoy life with his friends:
"I've said it before and I'll say it again. Life moves pretty fast. If you don't stop and look around once in a while, you could miss it."
 He's god damn right. We never take the time to look back on our life and years past. We could realize one day that we missed it or we did not fully enjoy it. We could feel a lot of regret. I thought this sample fit perfeclty with the mood of the song, happy and nostalgic at the same time.
'Azur' puts me in such a good mood. What inspired you to write something to happy and upbeat?
I don't really know how to explain it. It's natural and unconscious. Maybe it's summer, maybe I just felt good at the time or it was just the sun shining through the window that inspired me.
The artwork is gorgeous, who designed it?
What's next for Krosia?
A new collab will be out soon with another French artist, stay tuned! And other collaborations will probably come in the next few months. I'll also keep working on my solo project but nothing specific for the moment. I just write music when I feel inspired.
Follow Krosia here.